School: overview
Our School business contains a unique mix of publishing, testing and technology products, which are increasingly integrated. It generates around two-thirds of its sales in the US.
In the US, we publish high quality curriculum programmes for school students covering subjects such as reading, literature, maths, science and social studies. We publish under a range of well-known imprints that include Scott Foresman in the elementary school market and Prentice Hall in secondary.
Our school testing business is the leading provider of test development, processing and scoring services to US states and the federal government, processing some 40 million tests each year. Its capabilities will be further enhanced through the integration of the recently acquired Harcourt Assessment.
We are also the leading provider of electronic learning programmes for schools, and of 'Student Information Systems' technology which enables schools and districts to record and manage information about student attendance and performance.
In the US, more than 90% of school funds come from state or local government, with the remainder coming from federal sources. The major customers of our School business are state education boards and local school districts.
Outside the US, we publish school materials in local languages in a number of countries. We are the world's leading provider of English Language Teaching materials for children and adults, published under the well-known Longman imprint. We bolstered our position further in international markets through the recent acquisition of Harcourt Education International.
We are also a leading provider of testing, assessment and qualification services. Our key markets outside the US include Canada, the UK, Australia, New Zealand, Italy, Spain, South Africa, Hong Kong and the Middle East.
School: 2007 Performance
£ millions
2007
2006
Headline
growth
Underlying
growth
Sales
1,537
1,455
6%
6%
Adjusted operating profit

203

184

10%

11%
Continued share gains in school publishing
School Key Performance Indicators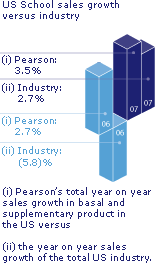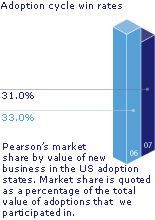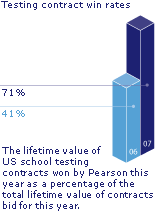 Pearson US School publishing up 3.5%, against industry growth of 2.7% (source: Association of American Publishers), as we benefit from our sustained investment in new basal programmes and innovative digital services.
Faster underlying growth in international school publishing, with continued margin improvement.
Pearson takes a leading share of the new US adoption market: 30% of the total market and 31% where we competed. #1 or #2 market share in reading, maths, science and social studies. Total 2007 new adoption opportunity of approximately $830m, up from $670m in 2006.
US School new adoption market expected to remain strong over the next three years (estimated at $900m in 2008; $860m in 2009; and more than $1bn in 2010). In 2008 we are competing for around 90% of the total new adoption opportunity.
Acquisition of Harcourt International brings leading content for school and vocational customers in many markets including the UK, South Africa, Australia and New Zealand. Transaction adds further scale to Pearson's international education businesses and accelerates the combination of educational content and innovative technology to personalise learning. Integration of the Harcourt business is progressing well.
Major cross company global English, maths and science projects launched, with the aim of sharing assets, expertise, investment and technology across all major international markets.
Successful global ELT publishing franchises in every major market segment – primary, secondary, adult, business and exam preparation – drives strong growth worldwide. Sales of student editions of English Adventure, developed with Disney, top six million units in less than three years; Economist and FT branded courses also performing strongly with major launch of Penguin Readers planned for this year.
Strong performance from school publishing businesses in South Africa and Australia; in Italy, integration of Pearson Paravia Bruno Mondadori complete, producing integration savings, margin improvement and market share gains; strong organic growth in Spanish language school publishing.
Innovation in school technology
13 product nominations in ten categories, more than any other education company, for the Software and Information Industry Association 'Codie' awards. The products include:PASeries, the first formative assessment product designed to measure progress and forecast student growth toward state goals or grade level expectations; Pearson Inform 4.1, a K-12 data analysis and decision support tool; PowerSchool Premier, a student information system that provides access to student information, enabling data-driven decisions that enhance student learning; and eCollege, an on-demand distance learning platform.
Continued investment in digital programmes both for basal adoption and for special populations, including NovaNet and SuccessMaker. Pre-publication expenditure for digital programmes growing as a proportion of total pre-publication expenditure.
enVisionMATH, our new integrated print-and-digital elementary maths programme (and the next generation of our successful California Social Studies programme), successfully launched for the 2008 adoption campaign. In 2008, maths accounts for approximately one-third of the total new adoption opportunity.
Strong growth and share gains in school testing
US School testing sales up in double digits (after high single digit growth in 2006), benefiting from further contract wins, market share gains and strength in online assessment.
2.5 million secure online tests delivered across 13 states during the year, up from 1.4 million in 2006.
Acquisition of Harcourt Assessment complements our existing assessment business, broadens our scale and reach in adjacent markets and creates new publishing and digital opportunities both in the US and around the world.
In the UK, we marked a total of 9.6 million GCSE, AS and A-level exam scripts, 4.6 million of which were marked on-screen. ResultsPlus rolled out across the UK and internationally providing more than 2,250 schools with secure online access to question-level examination performance data on exam results day for the first time. More than 100,000 students access their results online on results day for the first time.