Financial Times Group: overview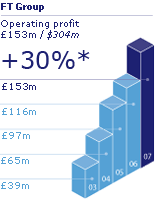 * Underlying growth
The FT Group provides a broad range of data, analysis and services to an audience of internationally-minded business people and financial institutions. In 2007, the FT Group had sales of £688m, or 16% of Pearson's total sales (15% in 2006), and contributed 24% of Pearson's operating profit.
It has two major parts: FT Publishing, a combination of the Financial Times, FT.com and a portfolio of financial magazines and online financial information companies; and Interactive Data, our 62%-owned financial information company.
FT Publishing competes with newspapers and other information sources, such as The Wall Street Journal, by offering timely and expert journalism. It competes for advertisers with other forms of media based on the ability to offer an effective means for advertisers to reach their target audience.
Interactive Data competes with Bloomberg, Reuters and Thomson Financial on a global basis for the provision of financial data to the back office financial institutions. In Europe, Telekurs is also a direct competitor for these services. Smaller, more specialised vendors also compete with Interactive Data in certain market segments and in certain geographic areas.
FT Publishing
The Financial Times is the world's leading international daily business newspaper. Its six month average circulation of approximately 440,000 copies at December 2007, is split between the UK (31% of circulation), Europe, Middle East and Africa (29%), the US (30%), Asia (10%). Its main sources of revenue are from sales of the newspaper, advertising and conferences.
The FT also sells content and advertising online through FT.com which charges subscribers for detailed industry news, comment and analysis, while providing general news and market data to a wider audience. The new FT.com access model was successfully introduced in 2007 and is based on frequency of use and is intended to drive usage and accelerate advertising growth, while providing greater value and services to its premium paying customers.
FT Publishing also includes: FT Business, which publishes specialist information on the retail, personal and institutional finance industries through titles including Investors Chronicle, Money Management, Financial Adviser, The Banker; and Mergermarket, our online financial data and intelligence provider.
Mergermarket provides early stage proprietary intelligence to financial institutions and corporates. Its key products include Mergermarket, Debtwire, dealReporter, Wealthmonitor and Pharmawire (which was launched in 2007).
FT Publishing joint ventures and associates
Our joint ventures and associates include:
50% interest in The Economist Group, publisher of the world's leading weekly business and current affairs magazine;
50% interest in FTSE International, a joint venture with the London Stock Exchange, which publishes a wide range of global indices, including the FTSE index;
50% interest in Business Day and Financial Mail, publishers of South Africa's leading business newspaper and magazine;
33% interest in Vedomosti, a leading Russian business newspaper;
14% interest in Business Standard, one of India's leading business newspapers.
Interactive Data
Interactive Data is a leading global provider of financial market data, analytics and related services to financial institutions, active traders and individual investors. The company's customers use its offerings to support their portfolio management and valuation, research and analysis, trading, sales and marketing, and client service activities.
Interactive Data's four businesses provide a range of enterprise-wide services, including:
Pricing and Reference Data: supplying global securities pricing, evaluations and reference data for more than 3.5 million securities traded around the world, including hard-to-value instruments
Real-Time Services: providing real-time global market data and managed solutions to financial institutions, redistributors and online financial portals worldwide. Services range from a consolidated, low-latency data feed, to tools for building, managing and hosting customised applications
Fixed Income Analytics: providing fixed income portfolio analytics in North America and Europe
Desktop Solutions eSignal: through its eSignal division, Interactive Data's eSignal provides global, real-time market data and decision support tools to active investors and professionals worldwide
FT Group: 2007 performance
£ millions
2007
2006
Headline
growth
Underlying
growth
Sales:
FT Publishing
344
280
23%
12%
Interactive Data
344
332
4%
8%
Total
688
612
12%
10%
Adjusted operating profit:
FT Publishing
56
27
107%
85%
Interactive Data
97
89
9%
13%
Total
153
116
32%
30%
Note: excludes Les Echos, sold in December 2007.
Great publishing, continued growth and significant margin improvement
FT Group Key Performance Indicators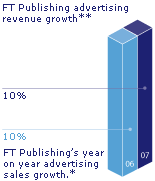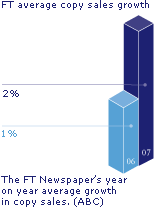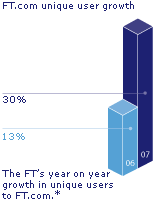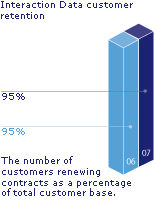 *Internal statistics.
**This KPI now reflects advertising growth of FT Publishing (FT Newspaper, FT.com, FT Business and FT Chinese).
FT Publishing revenues up 12% (advertising revenues up 10%) with operating profit more than doubling to £56m in headline terms.
Outstanding year at the Financial Times:

FT newspaper circulation up 2% to almost 440,000 (for the July-December 2007 ABC period), with a 19% increase in subscriptions;
Digital subscribers to the FT up 13% to 101,000; monthly unique users up 30% to 5.7 million; monthly page views up 33% to 48.2 million;
FT.com attracts 150,000 new registered users since launch of its innovative new access model in October 2007; strong growth continues in the early part of 2008.
FT named Newspaper of the Year at the 2007 What the Papers Say Awards.

Strong trading performance at FT Business as integration with the FT Newspaper helps to generate additional revenue and reduce costs.
The Economist, in which Pearson owns a 50% stake, increases its circulation by 9% to 1.3 million (for the July-December 2007 ABC period).
Continued shift towards global digital businesses and subscription revenues
Strong contribution from Mergermarket: rapid revenue growth with 90%+ subscription renewal rates and a series of new product launches around the world including Pharmawire, Debtwire in Asia Pacific and dealReporter in Emerging Europe, Middle East and Africa.
FTSE, in which Pearson owns a 50% stake, achieves double digit sales growth, benefiting from a strong new business performance, a joint venture with Xinhua Finance in China and strong growth in Exchange Traded Fund (ETF) licenses.
Several small acquisitions of complementary subscription-based and digital businesses:

Infinata

, a provider of research and business information to life science and financial services companies. The company's products, which include BioPharm Insight and HNW Insight, provide clients with comprehensive, timely information used to make strategic and tactical business decisions.

Exec-Appointments

, a well-established global job site that focuses on the high-earning executive sector with approximately 200,000 registered executive users.

Money-Media

, acquired in January 2008, a provider of must-have news and analysis via email and websites to US mutual fund managers, institutional investors, high net-worth individuals, company directors and advisers. Approximately two-thirds of Money-Media's revenues were generated through subscriptions with close to 90% renewal rates.

Sale of Les Echos to LVMH for €240m €240m (£174m) completed in December 2007.
Sale of 50% stake in FT Deutschland to Gruner + Jahr announced in January 2008.
Interactive Data
Strong sales momentum
Underlying sales growth of 8% driven primarily by strong sales to both existing and new institutional customers and a renewal rate of approximately 95% within the Institutional Services segment.
Strong new sales momentum in Q4 2007 further supported activities to realign the company's two largest institutional businesses under a single management structure.
Continued focus on high value services
Pricing and Reference Data continues to generate good growth in North America and Europe. The business continues to broaden its coverage of complex securities by expanding its universe of European asset-backed and mortgage-backed securities. The business also launched a new web-based offering, the Basket Calculation Service, designed to provide clients with the indicative optimised portfolio value for equity and fixed income exchange traded funds.
Real-Time Services continues to achieve strong growth with new institutional sales in its two core product areas of real-time data feeds and managed solutions. Highlights include: growing adoption of its PlusFeed data service for algorithmic trading applications; the introduction of DirectPlus, a new ultra low latency direct exchange data service; and excellent sales momentum for managed solutions in North America with new customers including media companies, online brokerages, stock exchanges and financial institutions.
Fixed Income Analytics completed 30 new BondEdge® installations during the year and made good progress in the development of its next-generation BondEdge® platform.
In the Active Trader Services segment, eSignal experienced modest expansion of its direct subscriber base, delivered numerous innovations across its suite of active trader services, and added new content and capabilities on its financial websites.
Interactive Data is listed on the New York Stock Exchange (NYSE: IDC) and Pearson owns a 62% stake. Interactive Data's 2007 results under US GAAP are available at www.pearson.com