Skip Links
About Pearson
Pearson is an international media and education company with world-leading businesses in education, business information and consumer publishing.
We create and manage intellectual property, which we promote and sell to our customers under well-known brand names, to inform, educate and entertain. We deliver our content in a variety of forms and through a variety of channels, including books, newspapers and online services. We increasingly offer services as well as content, from test administration and processing to teacher development and school software.
Though we operate in 60 countries around the world, today our largest markets are the US (59% of sales) and Europe (26% of sales) on a continuing basis.
Our businesses
Pearson consists of three major worldwide businesses:
Pearson Education is the world's leading education company. We are a leading publisher of textbooks, supplementary learning materials and electronic education programmes for teachers and students of all ages, and we play a major role in the testing and certification of school students and professionals. Pearson Education operates through three worldwide segments, serving School, Higher Education and Professional markets.
The Financial Times Group is a leading provider of international business and financial news, data, comment and analysis, in print and online. It has two major parts:
FT Publishing includes the Financial Times and FT.com, one of the world's premier sources of business information, alongside a portfolio of financial magazines. It also includes an online financial information business Mergermarket, which provides early stage intelligence to financial institutions and corporates as well as several joint ventures and associates including 50% of both The Economist Group and the FTSE index business.
Interactive Data provides specialist financial data to financial institutions and retail investors. Pearson owns a 62% interest in Interactive Data, which is publicly listed on the New York Stock Exchange (NYSE:IDC).
The Penguin Group is one of the world's foremost English language publishers. We publish the works of many authors in an extensive portfolio of fiction, non-fiction and reference titles, under imprints including Penguin, Hamish Hamilton, Putnam, Berkley, Viking and Dorling Kindersley.
Our strategy
Over the past decade we have transformed Pearson by focusing on companies which provide 'education' in the broadest sense of the word; companies that educate, inform and entertain. Through a combination of organic investment and acquisitions, we have built each one of our businesses into a leader in its market, and have integrated our operations so that our businesses can share assets, brands, processes, facilities, technology and central services.
Our goal is to produce sustainable growth on our three key financial measures – adjusted earnings per share, cash flow and return on invested capital – which we believe are, together, good indicators that we are building the long-term value of Pearson.
We do this by investing consistently in four areas, which are common to all our businesses:
Content

We invest steadily in unique, valuable publishing content and keep replenishing it. Over the past five years, for example, we have invested $1.7bn in new content in our education business alone.

Technology and services

We invested early and consistently in technology, believing that, in the digital world, content alone would not be enough. We now generate more than $1bn in sales from technology products and services, and our testing and assessment businesses, serving school students and professionals, make more than $1.2bn of sales, up from around $200m eight years ago.

International markets

Though we currently generate around 60% of our sales in the US, our brands, content and technology-plus-services models work around the world. All parts of Pearson are investing in selected emerging markets, where the demand for information and education is growing particularly fast.

Efficiency

We've invested to become a leaner, more efficient company, through savings in our individual businesses and through a strong centralised operations structure. Over the past three years, we have increased our operating profit margins from 10.8% to 15.0% and reduced average working capital as a percentage of sales in Pearson Education and Penguin from 29.4% to 25.6%, freeing up cash for further investment.
We believe this strategy can create a virtuous circle – efficiency, investment, market share gains and scale – which in turn can produce sustainable growth on our financial goals and the value of the company. This strategy helped us to achieve another set of record results in 2007.
2007 financial overview
Key Financial Measures and Performance Indicators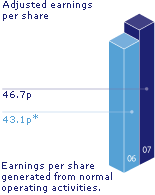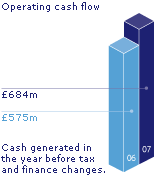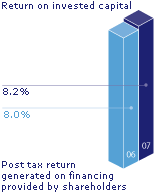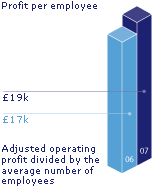 * Restated to reflect the impact of the 2007 change in tax treatment of amortisation of goodwill, 2.9p.
Note:Throughout this review, we refer to a series of 'Key Performance Indicators' alongside our key financial measures. Management uses these indicators to track performance on non-financial measures such as market share or growth relative to our industries.
Pearson's three key financial measures are adjusted earnings per share, cash flow and return on invested capital. In 2007, adjusted EPS and cash flow reached record levels and we generated a further significant underlying improvement in return on invested capital.
In 2007, Pearson's sales increased by 6% to £4.2bn and adjusted operating profit by 14% to a record £634m. Every part of Pearson contributed to this profit increase, with adjusted operating profit at Pearson Education up 9%, Penguin up 20% and the FT Group up 30%. Headline earnings per share were 46.7p, up 8% (and up 15% at constant currency).
Growth rates are stated on an underlying basis, excluding the impact of currency movements and portfolio changes. In 2007 currency movements reduced adjusted sales by £228m, adjusted operating profit by £37m and adjusted earnings per share by 2.7p, whilst portfolio changes increased adjusted sales by £146m and adjusted operating profit by £22m.
We also produced record cash flows. Operating cash flow increased by 19% or £109m to £684m and operating free cash flow by £99m to £533m. Cash conversion was once again very strong at 108% of operating profit. Over the past three years, the proportion of our profits converted to cash has averaged more than 100%. The ratio of average working capital to sales at Pearson Education and Penguin improved by a further 0.7% points to 25.6%. Our return on invested capital shows a headline increase of 0.2% points (to 8.2%) and a 1.0% point underlying improvement.
Statutory results show an increase of £52m in operating profit to £574m (£522m in 2006). Basic earnings per share for continuing businesses was 39.0p in 2007 against 52.7p in 2006, largely reflecting the absence of a 2006 tax credit. Net debt was £86m lower at £973m (from £1,059m in 2006).
The board is proposing a dividend increase of 7.8% to 31.6p. Subject to shareholder approval, 2007 will be Pearson's 16th straight year of increasing our dividend above the rate of inflation.
During the year, we announced the acquisition of Harcourt Assessment and Harcourt Education International from Reed Elsevier for $950m. The transaction closed in several stages, with the final stage completed in January 2008 following clearance by the US Department of Justice. Aside from the Harcourt deal, we also announced the acquisition of eCollege in 2007, a key provider of e-learning and enrolment services to post-secondary education.
These two transactions extend Pearson's position as the world's leading education company by adding new capabilities, complementary products and further international reach.
In February 2008 Pearson completed the sale of its Data Management business to M & F Worldwide Corp. for $225m.
In December 2007, we completed the sale of Les Echos to LVMH for €240m in cash. In January 2008, we announced that we had agreed to sell our 50% stake in FT Deutschland to Gruner + Jahr. The transaction increases Gruner + Jahr's stake to 100% and is expected to complete in the first quarter of 2008.
These two transactions will allow us to focus the FT Group on the worldwide expansion of the Financial Times and our digital financial information business.
Pearson outlook 2008
In recent years we have significantly changed the shape of Pearson, building and diversifying our education company, shifting our financial information businesses towards recurring revenue streams and becoming more efficient through a centralised operations organisation. These moves have made Pearson a more profitable, more cash generative and more resilient company, and we expect to make further progress on our financial goals in 2008.
At this early stage, our outlook for 2008 is:
In

Education

(64% of 2007 sales and operating profit), we expect another year of good profit growth, benefiting once again from the unique breadth of our education business – from pre-school to adult learning; across publishing, testing and technology; and in the US and around the world.

In our

School

business, integration of our recently-acquired Harcourt businesses is progressing well. In 2008, we expect School margins to be similar to 2007, after expensing integration costs relating to the acquisition. In 2009, we expect School margins to rise to around 15% as the majority of the integration costs fall away and as we realise the financial benefits of the acquisition.

Including the Harcourt contribution, we expect our School business to grow sales well into double digits in 2008 at constant currency. Excluding Harcourt, we expect underlying sales growth in the low single digits, as US market growth of 3-4% is partly offset by our lower participation rate in new US adoptions and the conclusion of our UK key stage testing contract.

In

Higher Education

, we expect our underlying sales to grow in the mid single digits, a little ahead of the industry. We expect margins to be stable, as we continue to invest in expanding our adaptive learning technologies and in taking our recently-acquired eCollege platform into new segments and geographic markets.

In

Professional

, we expect sales to increase in the low single digits in underlying terms with underlying margins improving once again.

Penguin

(20% of sales; 12% of operating profit) expects to improve margins further and into double digits. Penguin's good publishing and trading performance has continued into the early part of 2008.
The

Financial Times Group

(16% of sales; 24% of operating profit) expects to continue its profit growth. We have substantially increased our digital and subscription revenues and reduced our exposure to print advertising in recent years (in 2007, digital services accounted for 63% of FT Group revenues, compared with 28% in 2000; advertising accounted for 30% of FT Group revenues, down from 52% in 2000). At

FT Publishing

, advertising revenues have continued to grow in the early part of the year, but future advertising trends remain difficult to predict. However, as a result of our revenue diversification and cost actions we expect further profit improvement at FT Publishing this year, even without any growth in advertising revenues.

Interactive Data

expects to achieve revenue growth in the 7-9% range and operating profit growth in the 9-11% range (headline growth under US GAAP).