The Penguin Group: overview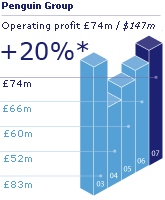 * Underlying growth
Penguin is one of the world's premier English language book publishers. We publish an extensive backlist and frontlist of titles, including fiction and non-fiction, literary prize winners, commercial bestsellers, classics and children's titles. We rank in the top three consumer publishers, based upon sales, in all major English speaking and related markets - the US, the UK, Australia, New Zealand, Canada, India and South Africa.
Penguin publishes under many imprints including, in the adult market, Allen Lane, Avery, Berkley, Dorling Kindersley (DK), Dutton, Hamish Hamilton, Michael Joseph, Plume, Putnam, Riverhead and Viking. Our leading children's imprints include Puffin, Ladybird, Warne and Grosset & Dunlap.
In 2007, Penguin had sales of £846m, representing 20% of Pearson's total sales (21% in 2006) and contributed 12% of Pearson's operating profit. Its largest market is the US, which generated around 55% of Penguin's sales in 2007. The Penguin Group earns around 99% of its revenues from the sale of hard cover and paperback books. The balance comes primarily from audio books and e-books.
Penguin sells directly to bookshops and through wholesalers. Retail bookshops normally maintain relationships with both publishers and wholesalers and use the channel that best serves the specific requirements of an order. It also sells through online retailers such as Amazon.com, as well as Penguin's own website.
Penguin competes with other publishers of fiction and non-fiction books. Principal competitors include Random House, HarperCollins, and Hachette Group. Publishers compete by developing a portfolio of books by established authors and by seeking out and promoting talented new writers.
The Penguin Group: 2007 performance
£ millions
2007
2006
Headline
growth
Underlying
growth
Sales
846
848
– %
3%
Adjusted operating profit
74
66
12%
20%
Strong competitive performance in major markets
Successful global publishing performance led by Alan Greenspan's The Age of Turbulence, with almost 1 million hard cover copies shipped to date worldwide, and Kim Edwards' first novel, The Memory Keeper's Daughter, a global #1 bestseller for Penguin in the US, UK, Australia and Canada.
Outstanding year for bestsellers in the US with titles including Elizabeth Gilbert's Eat, Pray, Love (4.4 million copies shipped to date); Khaled Hosseini's A Thousand Splendid Suns (2.2 million); and Ken Follett's World Without End (almost 1 million).
UK bestsellers included Marian Keyes' Anybody Out There?, Jamie Oliver's Jamie at Home, Jeremy Clarkson's Don't Stop Me Now and Charlie Higson's Double or Die. Strong year for Brands & Licensing division driven by The Dr Who Annual (the second best-selling children's book of 2007) and bestselling In the Night Garden titles.
Australia: strong publishing from authors including Bryce Courtenay with The Persimmon Tree and Dr Manny Noakes with CSIRO Total Wellbeing Diet Book 2.
DK delivered a strong global performance in traditional, custom and digital publishing, benefiting from innovative formats including The Human Body Book, personalised travel guides via traveldk.com and the first DK textbooks for higher education markets.
Penguin Key Performance Indicators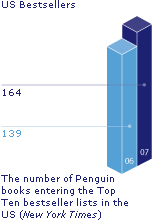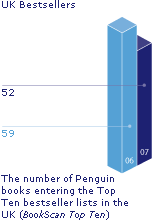 Rapid growth in emerging markets
India: Penguin India celebrated its 20th anniversary in 2007 with continued rapid growth. Penguin authors win all the major English language prizes in India's national book awards: Vikram Chandra in fiction for Sacred Games, Vikram Seth in non-fiction for Two Lives and Kiran Desai in readers' choice for The Inheritance of Loss.
China: Jiang Rong and Howard Goldblatt win inaugural Man Asian Literary prize for Wolf Totem, to be published in English around the world by Penguin in 2008.
South Africa: another strong year led by John van de Ruit's Spud: The Madness Continues.
Innovation in print and online
Rapid growth in sales through online retail and digital channels driven by innovative digital marketing initiatives and investment in ebooks (with 5,000 Penguin titles currently available) and digital content. Strong growth in online revenues and unique visitors to Penguin and DK websites.
Continued innovation in formats (including the pioneering US premium paperback and personalised 'on-demand' travel guides), genres (Portfolio business imprint in India), sales channels (bestselling eBooks via online retailers and Penguin's own websites; audio books via iTunes and Audible; Rough Guides via Motorola, Nokia and Samsung phones) and communications channels (www.spinebreakers.com, an online community for teenagers).
Subscribers to Penguin and DK opt-in newsletters building rapidly, up 34% year-on-year to over 150,000, allowing Penguin consumers to personalise areas of interest and strengthening relationship with Penguin brand.
Continued focus on quality and efficiency
Pearson-wide renegotiation of major global paper, print and binding contracts continue to bring cost savings in 2007.
Further improvement expected in 2008 from ongoing management of production, warehousing and distribution costs.
Strong 2008 publishing schedule; strong start to the year
Strong list of new titles for 2008 from bestselling and new authors including Patricia Cornwell, Steve Coll, Michael Pollan, Jamie Oliver, Marian Keyes, Jeremy Clarkson, Thomas Friedman, Niall Ferguson and the new James Bond book from Sebastian Faulks.
Outstanding sales performance from Eckhart Tolle's A New Earth, with 4 million copies shipped since its selection for Oprah Winfrey's book club on 30 January. First of ten online classes featuring Eckhart Tolle and Oprah Winfrey aired on 3 March.